Torrex Pro Review - Torrent Client Application for Windows 10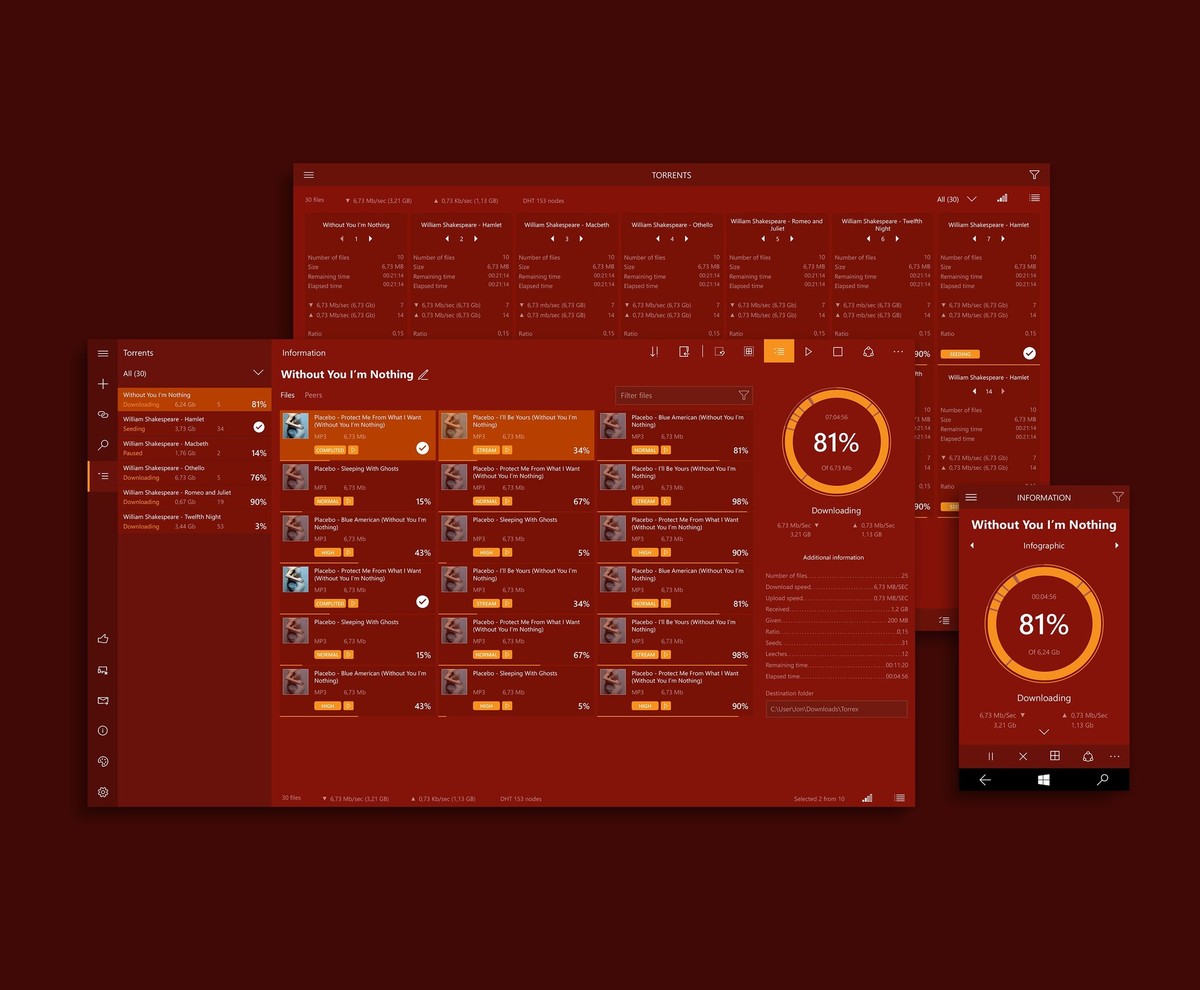 torrex pro
Torrent, who is unfamiliar with Torrent, about the introduction and all things Torrent has already been discussed by Mastekno a few years ago on the
following
page.
And we ourselves know, to download a Torrent requires a Torrent Client, for example, the most common ones are uTorrent, BitTorrent and Vuze, I myself have tried all three of these applications, and I think it's pretty good too because it works really well when downloading Torrent files what we need.
And in this article, I will discuss a little Torrent Client application that you can download on the Microsoft Store Page, in other words this application is UWP or Universal Windows Apps and is very well suited to Windows 10, the name is
Torrex Pro
.
Yep for old readers of Masno may already be familiar with this application, especially for those users of Windows Phone because it was already discussed @febian five years ago when it was free for a limited period specifically for Windows Phone, unfortunately, I rarely downloaded Torrent so that you don't have the chance to claim a license, now Windows Phone has become history.
How to Download?
Because Torrex Pro is a paid application, of course like most other premium applications, there will be a trial period, I myself get a trial or trial period for 7 days and that is enough to try all the features in it, to get it we just need to click it ' Free Trial ' on the Microsoft Store Torrex Pro page, the Download Torrex Pro process will then be followed.
System Requirements
To download and use Torrex Pro, at least you have to use Windows 10 build 18362 or Windows 10 May 2019 Update.
What Features Are Provided?
There are several main features provided in Torrex Pro, including:
Flight: Torrex is now much lighter and faster.
Mimicry: the design adapts to any type of device.
Invisibility: Torrex works in the background without any problems.
Mutation: a built-in player. Watch media content right in the application.
Time jump: watch a movie or listen to music while the download is still in progress.
Extended vision: improved detection of torrent sources.
Speed control: you can limit the speed and total amount of downloaded data.
Agility: you can now enable downloads over Wi-Fi only to save mobile traffic.
Telepathy: share data remotely using "Share Contract".
Empathy: Torrex speaks over 32 languages and is learning new ones all the time.
And besides that, there are also Technical Features which are also included in the Torrex Pro Description page in the Microsoft Store. Among others are :
Simple and intuitive interface.
Smart adaptive design.
Fully universal application (UWP).
Support of the Continuum technology.
Background mode support.
Ability to play media files immediately after the start of downloading (streaming).
Built-in viewer for music, video, images, and text files.
Plays MKV formatted video files.
Configurable content view (tiles, table, tree) and various color themes.
Download priority management, filters.
Possibility to stop seeding upon completing a download.
Possibility to restrict downloads to non-mobile connections only.
Possibility to change the download destination.
Connection encryption.
Download speed control.
What I Like About Torrex Pro?
Many things that I quite like from all the features provided by Torrex Pro, but what I like most clearly is the minimalist look and Windows 10, on the Settings Personalization page on Torrex Pro, we can also choose the Color Scheme we like, and even Background Transparency that we can set.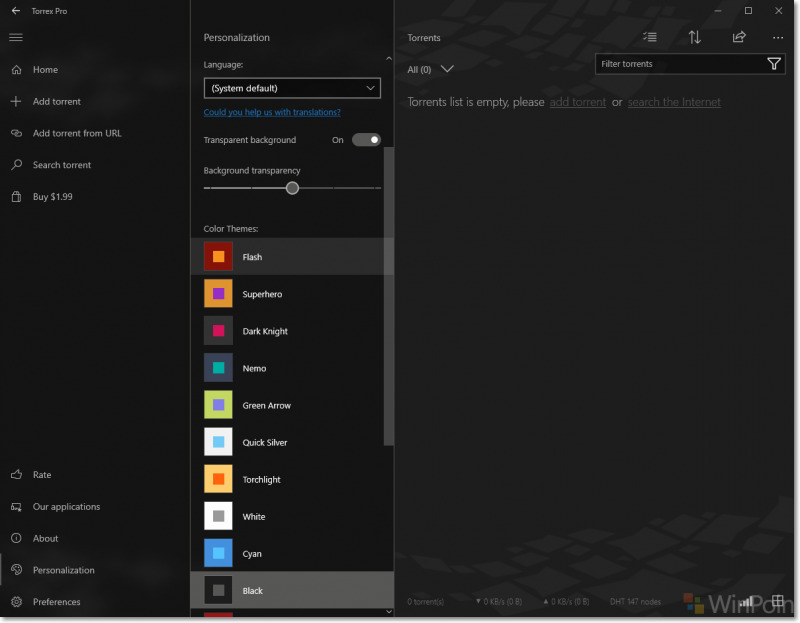 It's just, I suggest if you want to apply the Dark Color Scheme, you should choose the Dark Knight not the Black one, because later the Font and writing will be a little difficult to read.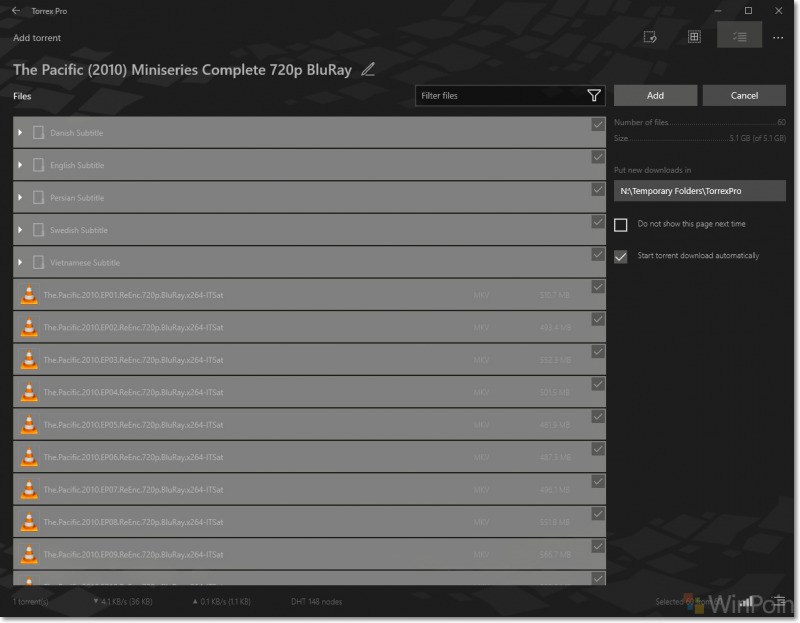 Color Theme Black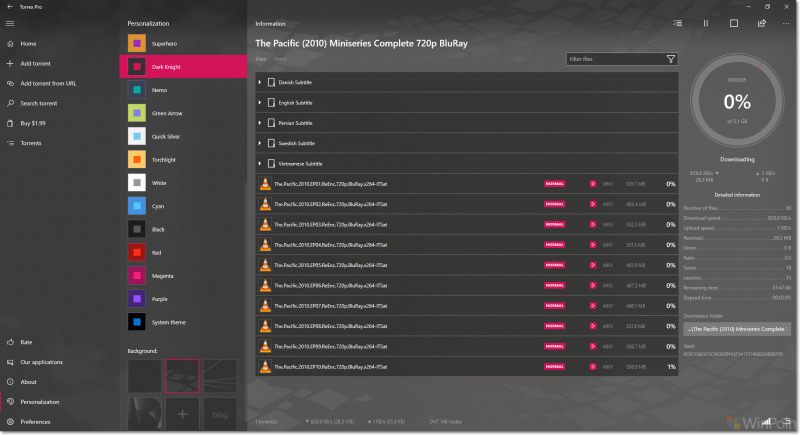 Color Theme Dark Knight
Aside from the appearance, the settings themselves are arguably quite complete with Speed ​​Control, Download Folder Locations, Disk Write Cache and others.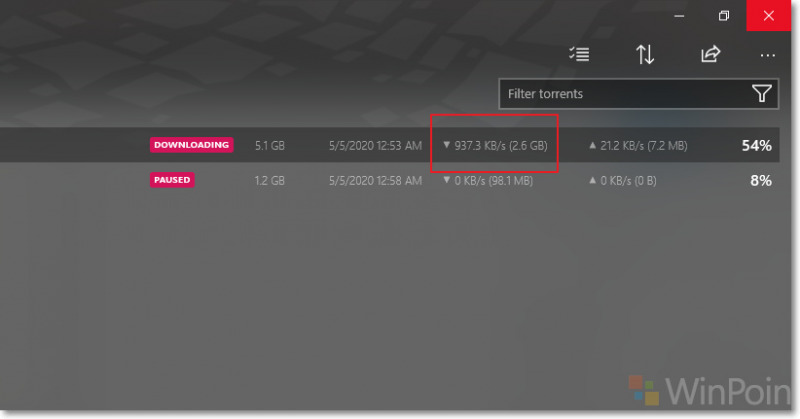 Usage Experience
Since June 20, 2020, until now June 30, 2020 (when this article was completed), I have been using this Torrex Pro for more than a week now, for the purposes of Download Torrent, of course, and during the use of it, I felt quite satisfied. back again to the features provided are quite complete, the design of Windows 10 is really, and moreover this is a Pro alias Premium application with no annoying ads in it.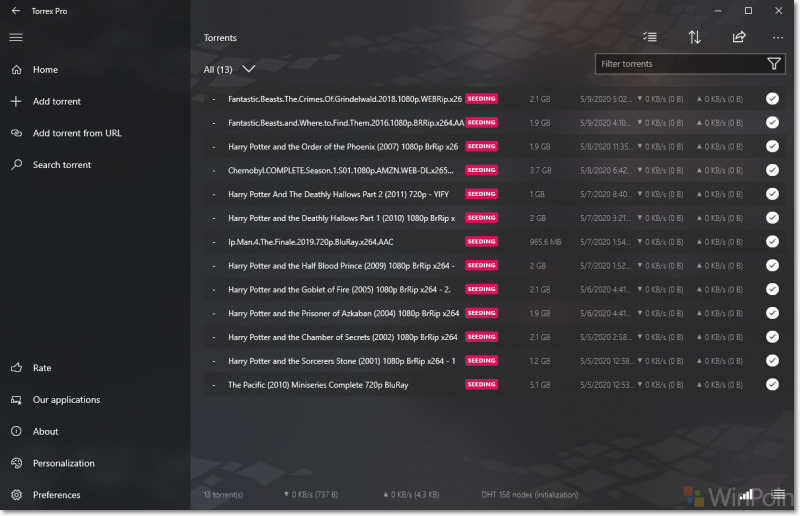 Now I have already bought a Torrex Pro license for 1.99 USD, for which you can see the purchase article on the
following
page.
Why do I need a Torrent Client application? The answer, of course, is because you can guess yourself. Hehehe. Besides that, aside from Torrex Pro, there is another variant namely Torrext Lite which is the free version.
Torrex Pro vs Torrex Lite
Speaking of two different variants of Torrex, the Lit version itself has features that are almost exactly the same as the Pro version with the Speed ​​Limit, and others, it's just a little limited by not being able to run in the background when the download process, can't play MKV files, and of course, contains advertisements that will appear when the application is running.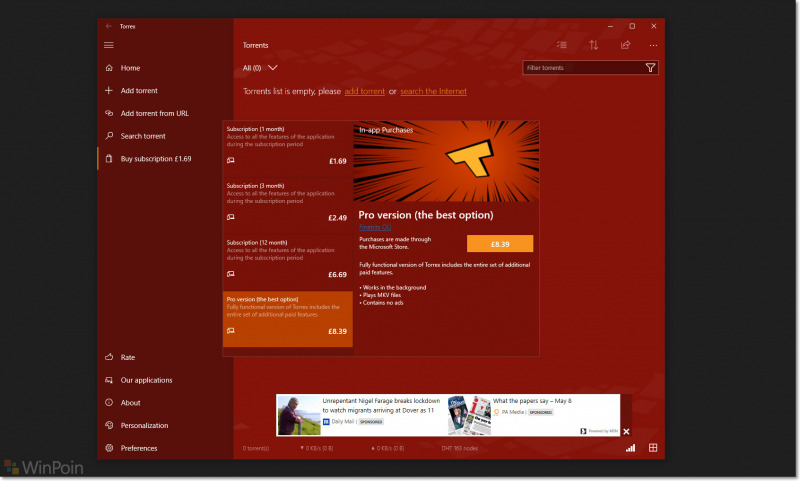 torrex lite
In addition to lifetime purchases, in torrex lite there are also options Subscriptions or subscriptions to get all the features that are present in Torrex Pro without having to buy the Pro Version, the price itself varies, starting from $ 1.99 for a one-month subscription, $ 2.99 for a quarterly subscription, and $ 7.99 for subscriptions per year, in my own opinion, if viewed based on value per cost, then buying the Pro version is better than if you have to buy a subscription license because we will get a full time license without a certain time limit.
But if you don't really need the application to run in the background, no need to play MKV Files, and no problem with ads, Torrex Lite is very suitable and enough I recommend too.
Conclusion
For more than a week, I use Torrex Pro to download Torrent files, I myself feel quite comfortable and satisfied, even willing to spend a little money to buy the Pro license. In addition, minimalist design by applying fluent design and transparency that integrates with Windows 10 makes this application different from other torrent clients that I have used before. What's more, Torrex Pro is a UWP application that can be downloaded and updated very easily directly through the Microsoft Store page.
And one more thing you might need to know about this application, in the Microsoft Store itself the reputation and review of Torrex Pro are quite good by getting five-star as many as 77% of 362 Users (May 17, 2020), while for Torrex Lite getting 68% five-star from 626 Users.
If you are interested in trying this application, you can download Torrex Pro on the
following
Microsoft Store page. Meanwhile, if you want to try the Torrex Lite version, you can download it on the
following
page.
Please note that this article is based on my personal experience and personal opinion, please try to feel the experience of using this Torrex Pro. Hopefully, it is useful and if you have other recommendations for a better torrent client, please comment below guy
s.